Now you can easily fill interiors with natural daylight by adding a sliding window or door. With Roto Patio Inowa you are not restricted by inability to resist extreme weather or concerns about energy efficiency. 
This patented hardware mechanism is unique among sliding systems as it creates an unbroken weather seal around all four sides of the sliding sash. The end result? Unparalleled air tightness, extreme weather resistance and strong security.
What's more, this high level of sealing has a very strong impact on energy efficiency.  Patio Inowa is therefore ideal for modern buildings where design is key and U-values are a major consideration. The system is already used on a number of big architectural projects worldwide, such as Wardian London, One Park Drive at Canary Wharf and the KOI Tower in Mexico.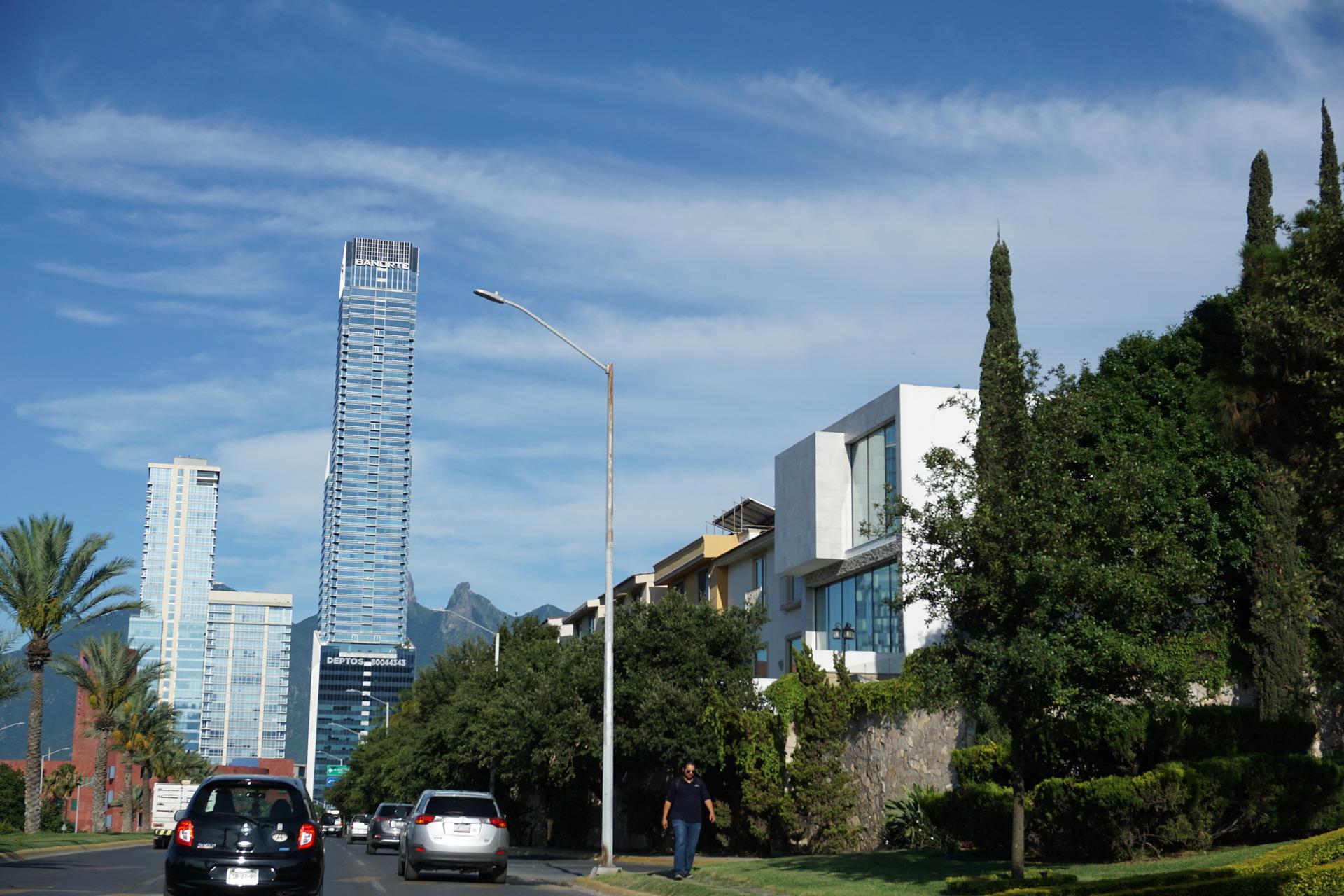 What makes it stand out?
The main difference from other systems is the closing mechanism. The patented Roto design pulls the sliding sash into the sealed position with locking points located on all four sides. The central mullion, traditionally the weak spot on a sliding system, is sealed as firmly as the other three sides. The sliding action is incredibly smooth and easy to operate. Locking and unlocking is performed via a simple turn of the handle. 
Below you can find more details about the range of applications and the many advantages Patio Inowa brings to you as an architect and ultimately to the end users of your building designs.
Style and design
Patio Inowa is compatible with virtually any window material: aluminium, timber, alu-timber composite, and PVC. This means you can specify sliding units in any material to fit the design and budget of your project.
Maximum daylight
Flood the interiors of your buildings with natural daylight. Widths of 3000 mm and heights up to 3600 mm are possible. The height/width ratio can be as much as 3:1, offering you a lot of design freedom.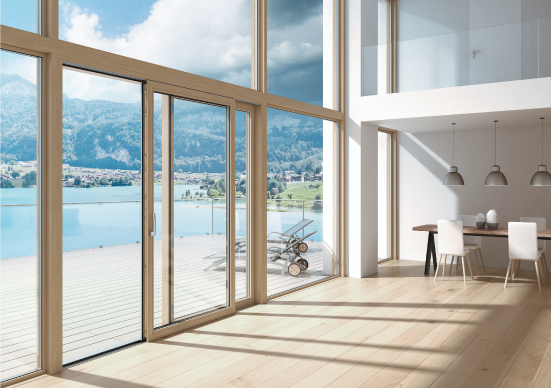 Minimal frames
You can further enhance the aesthetic appeal of sliding units because the Patio Inowa system is designed to work on modern slim profiles. The glass area is maximised and central mullions are less intrusive.
Panoramic views
If your building is set in dynamic surroundings then Patio Inowa enables you to provide a stunning vista while remaining tightly sealed, secure and easy to use.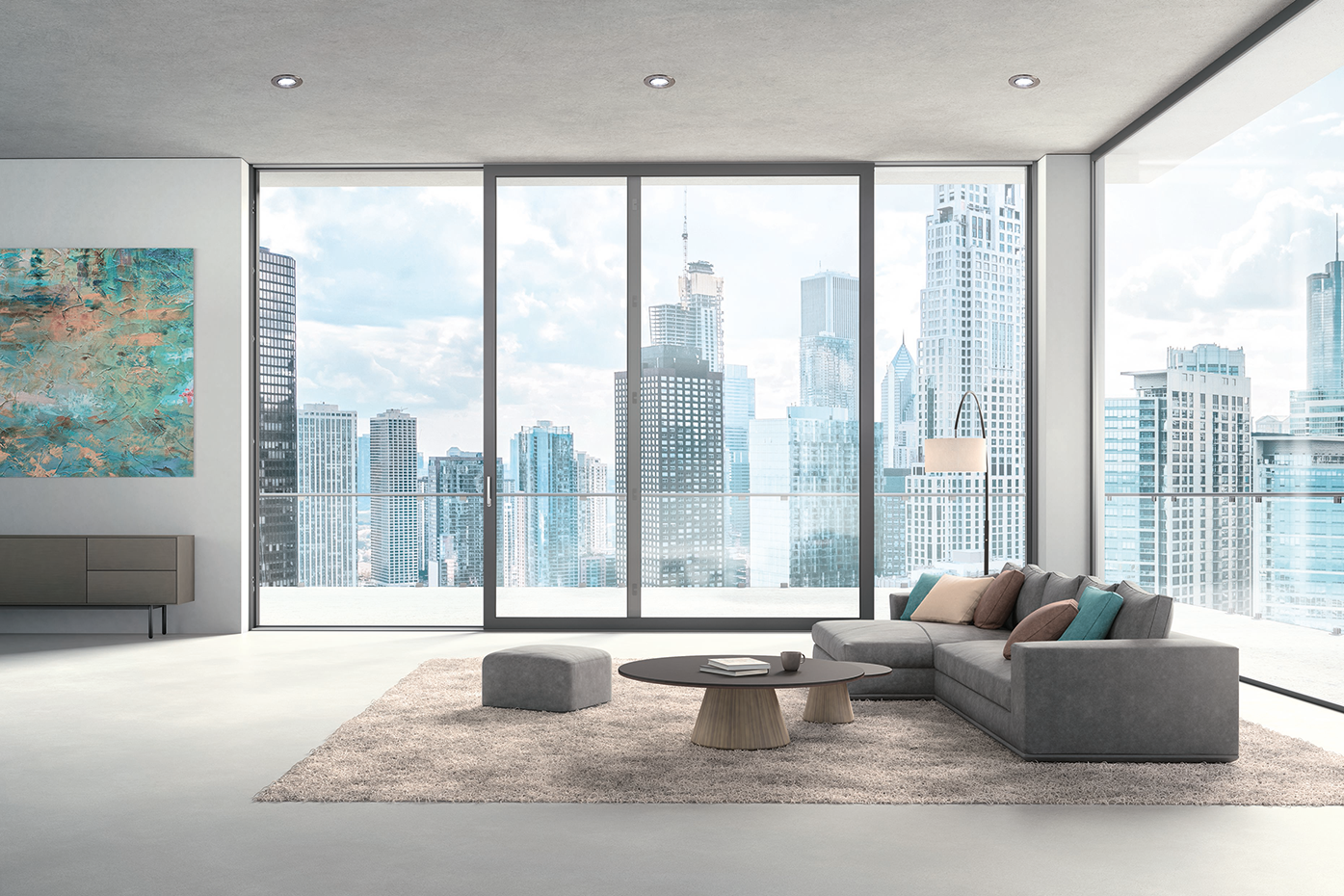 Technical advantages
Along with its superior aesthetics, Patio Inowa gives sliding installations several technical advantages, all of which will be appreciated by the end users of your buildings.
Resist extreme weather
Patio Inowa installations have been proven to meet the highest EN test criteria for resistance to wind and driving rain. This makes the system suitable for installation on tall buildings, high coastal locations or any other situations where they will be exposed to the worst weather conditions.
Mute outside noise
The unique Patio Inowa closing mechanism not only seals the sliding unit against air and water. It also contributes hugely to sound insulation, making this system a perfect choice for urban locations where householders often want to be able to shut out the sound of the city.
Easy to use
Patio Inowa is intuitive and foolproof. All you have to do is turn the handle and slide the unit open. Because there is no "lift" element or need to move the gaskets, handle torque forces are kept low, making it accessible to a wide range of users.
Roto's highly refined roller mechanism lets you slide even the biggest units with minimal effort. You can also specify pneumatic functionality to bring the sliding sash to a perfect, controlled stop at the end of its travel.
Security
The all-round locking does not only protect you from extreme weather, but also from a potential break-in. On specific systems, security standards such as PAS 24 (UK) and SKG (Netherlands) have been achieved along with EN standards. This makes Patio Inowa ideal for ground floor applications and any area where burglar protection is a priority.
Climate control
You can achieve very high levels of airtightness with Patio Inowa, resulting in impressive U-values. The system is already widely used on a number of eco building projects, including the ones subject to the passive house standard.
Contact us
It's safe to say that Roto Patio Inowa opens up a whole new world of possibilities for architects. Sliding systems can now be used where it was previously impossible and all those frustrating limitations are a thing of the past.
Would you like to know and see more? Make an appointment with one of our technical experts, in person or online, and they'll be happy to answer all your questions. The future of sliding windows and doors is already here. Roto Patio Inowa.
Get in touch
Join a Roto representative in person or online to answer your questions. Fill in your details here to request a meeting and they will get back to you.
By completing and submitting the form below, you agree to our privacy policy.