Roto has previously worked in partnership with profile experts Aluplast and Gealan to produce new sliding systems that use Roto Patio Inowa hardware.
Another such project is Rehau SYNEGO SLIDE, a bespoke profile system for Rehau fabricators to make sliding windows and doors with Roto Patio Inowa technology.
Light and flexible
Rehau markets Synego Slide as a system that can be operated very simply and with an extremely light effort, and which also allows a great range of flexibility for interior design. There are many other benefits, many of which are made possible by Roto Patio Inowa.
Design options
Synego Slide is designed with a foil-coated rebate, which means all of the windows and doors throughout a home can be given a uniform look. The Kaleido Color range from Rehau provides a wide choice of colours and surface textures –– over 400 design options in total.
Keeping warm
The all-round seal, held tightly closed by Roto's patented locking system, means Synego Slide windows and doors provide excellent levels of thermal insulation. U-values of up to 1.3 W / (m²K) can be achieved.
Quiet home
The profile is compatible with high-quality sound and heat insulation glass. Along with energy efficiency, this helps keep out unwanted noise. The system reduces sound by up to 43 decibels. This can represent as much as a 20 times reduction in external noise entering a building –– a huge improvement to quality of life for customers.
Stormproof
The tight compression provided by the Roto locking mechanism gives Synego Slide a high quality seal on all four sides of the sash. This means it can resist high winds and driving rain in accordance with all industry norms.
Security to RC 2
Another benefit provided in large part by the Roto Patio Inowa hardware system is the fact that Synego Slide installations can resist attacks with common burglary tools for several minutes in line with EN Resistance Class 2. You can offer this evidence to your clients for their peace of mind.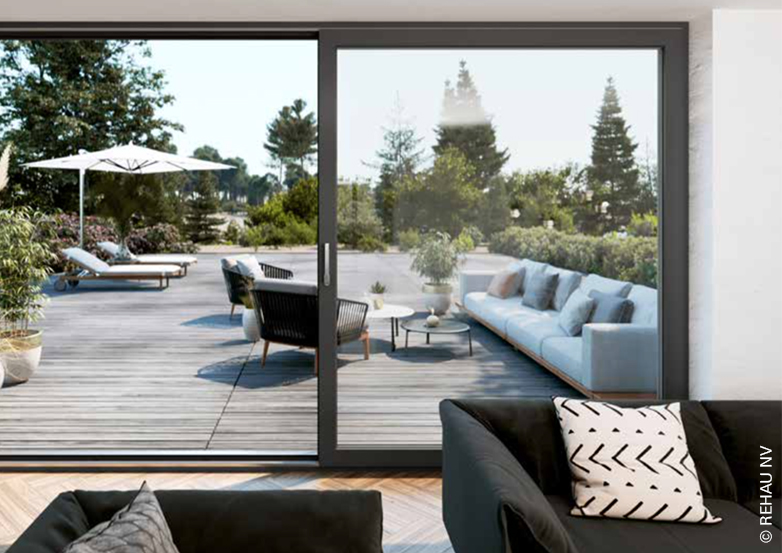 Sustainability
Synego Slide is one of a number of Rehau profiles that bear the EcoPuls product label. This means the profile is made from 40% to 75% recycled material. Combined with the recyclability of Roto hardware, a Synego Slide installation has very strong eco credentials, another great selling point for consumers with an environmental conscience.
Download the brochure
This document contains technical details for Rehau fabricators to order Patio Inowa hardware for use with SYNEGO SLIDE.
By completing and submitting the form below, you agree to our privacy policy.