When making aluminum doors you have a wide choice of hinge options from Roto. The various alternatives cover different profile styles and cater for loadings depending on the size and weight of the door. In this article we look at the latest additions to the range and provide an overview of all the hinges on offer.
We have just expanded the Roto Solid B range of butt hinges with the introduction of two models with an aluminum clamp fitting.
These new hinges bring advantages for installation and adjustment, as well as stability and burglar resistance. They have aesthetic refinements too.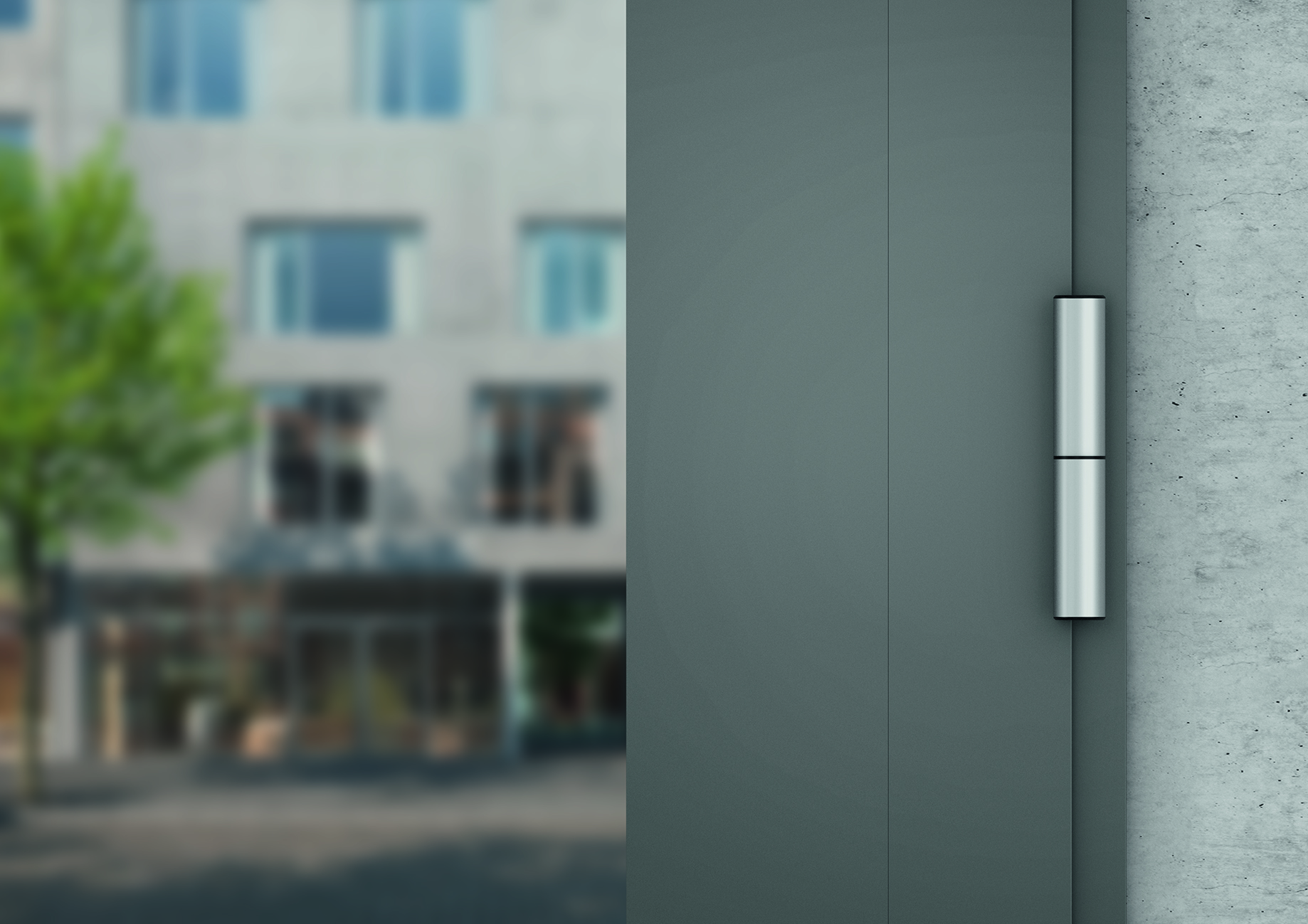 The two new versions are:
Solid B 224 A – two-part hinge, 155mm tall, for doors up to 100 kg*
Solid B 324 A – three-part hinge, 223 mm tall, for doors up to 120 kg*
*Door weight limits are based on at least two hinges per door.
Both models have the appearance of a butt hinge with a diameter of 24mm.
Integrated adjustment
All the adjustment mechanisms are now integrated into the roller. This provides benefits for manufacturers and installers because height and lateral adjustment can be made when the door is closed, with no need to unhinge it.
Fast fitting
Installation is quick and accurate, thanks to the pre-assembled clamping block. No machining of the profile is necessary. There is also no need to undo the clamping screws in order to make adjustments to the hinges.
Visual design
End users will also gain aesthetic benefits as a result of this internal adjustment mechanism. The gap between the parts of the hinge always remains the same and there is no visible axis offset either. This helps to maintain the sleek, tidy appearance.
Burglar resistance
In terms of security, RC2 and even RC3 levels of break-in resistance are possible, depending on the design of the door.
Lifetime assurance
Your customers can be assured of a long service life, because like all other Roto hinges, these new versions are tested for 200,000 opening and closing cycles in accordance with EN 1935.
The hinges have self-lubricating bearing bushes, which means they require no maintenance whatsoever.
Get in touch
Your Roto representative will be pleased to give you a demonstration of these new Roto Solid B hinges.
In the meantime, if you are making aluminum doors it is worth knowing about some of the other Roto hinges that are available.
Flush or recessed aluminum profiles
We have two different screw-on hinges that are suitable for this type of profile. The choice depends upon the loading and the frequency of use.
Both models feature die-cast zinc casings and extruded aluminum cover plates. There is a wide range of adjustment, which can be achieved with the hinge fixed in place and without having to remove the covers.
These hinges can be screw mounted using any one of three different methods: Linkdrill, direct mounting or with the use of backing plates.
Standard doors
Roto Solid S 80 ATB is a two-part hinge for aluminium doors that experience a normal level of use. It meets the requirements of Hinge Class 12 according to EN 1935 and is suitable for any aluminum door up to 100 kg.
Heavy or Frequent Use Doors
For doors in high occupancy offices, retail or any other public building that are subjected to frequent use, or for doors that are particularly heavy due to size or glass thickness, we have Roto Solid S 120 ATB. This is a three-part model, certified to Hinge Class 14 (EN 1935). With two hinges per door, the maximum load is 160 kg.
All the externally mounted Roto hinges are available in powder coated or anodized finishes. If you have a requirement for a particular color, your Roto partner or representative can advise on this.
Concealed hinges
More and more homeowners are choosing large aluminium doors for their main entrance. With the Roto Solid C.7 140 range you can provide customers with the aesthetic appeal of having no visible hinges on either side of the door.
Along with its high loading capacity (140 kg) and proven level of burglar resistance (RC2 on suitable profiles) this completely concealed hinge also has several features to make both assembly and installation fast and accurate.
The same components can be used to make either a left or right-handed door. Frame and sash parts are packaged separately to allow simultaneous assembly on different workstations. Workers find it easy to mount the sash thanks to the FixClick function, which makes a click sound to indicate a correct connection has been made.
As with other Roto hinges, the end user will not have to do any maintenance or add lubrication to this hinge, which is lifetime tested for 400,000 cycles.
Other benefits of the concealed option include easy cleaning of the door and the energy efficiency advantages of a completely unbroken weatherseal. The mechanism, which is only seen on the inside sash and frame edge of an open door, can be either black or silver.
We wrote more about the Roto Solid C.7 140 in this article.
To discuss your requirements for hinges or any other aluminium door hardware, arrange a meeting either in-person, online or by phone with your Roto representative. Either way, they will be pleased to advise you.
Book a Roto representative visit.
Book a visit from your Roto representative. Fill in your details here and we will get in touch.
By completing and submitting the form below, you agree to our privacy policy.