Of all the many production sites in the Roto Group, the biggest and most versatile is found in the Styria region of Austria.
Roto Kalsdorf manufactures a wide range of our products. All of the items in the door lock range can be produced here, along with the complete suite of door hinges. The site also produces Roto NX and NT window systems plus the range of Roto window shutter hardware.
It is also the oldest of the Roto factories by some margin. The story goes back over 150 years to 1868, when a man called Adolf Finze founded a screw and rivet manufacturing company in the region. Twenty-five years later in 1893 he relocated the business to the site in Kalsdorf bei Graz where the Roto facility now stands.
Lapp Finze AG grew to become a very important employer in the Styria region. The Kalsdorf civic coat of arms has three nails in it, representing the hardware produced in the city.
In 1979, Roto acquired the company and it became part of the international Roto group. The site is now branded with Roto logos, although the former name lives on in the street address, Lapp Finze Strasse. Several of the original 1890s buildings remain as part of the complex. There is also still a water wheel producing electricity from the river that flows through the site.
Nowadays, Roto Kalsdorf employs around 370 staff. Although it is the oldest of our production sites, it plays a big role in our future because around 10 percent of the employees are trainees and apprentices.
The Kalsdorf site has the technology to carry out a wide range of processes.
These include:
Zinc die-casting
The tried-and-tested method of manufacturing components in complex shapes. Parts such as strikers and many different sub-components for Roto product groups are made this way.
Plastic injection moulding
This technology enables the mass production of precisely-sized and identical parts. Roto's state-of-the-art machines are capable of processing plastic granules that are reinforced with glass fibre. This is a process with low levels of material waste because the broken off sprues are immediately crushed and recycled back into the workflow.
Stamping
Many Roto components such as hardware faceplates are stamped from sheet metal. The Kalsdorf factory can process strip materials up to 300mm wide and 3mm thick with machines that use pressing forces up to 200 tonnes. Newly stamped parts are deburred using a fully automatic vibratory grinding process.
Punch laser processing
A wide range of parts are produced with punch laser machines, which combine mechanical punching with intricate laser cutting.
Mechanical machining
Many Roto items require screw holes or threads to enable their installation. Cast, stamped and punched parts are machined on site in processes that can involve drilling, countersinking and thread cutting.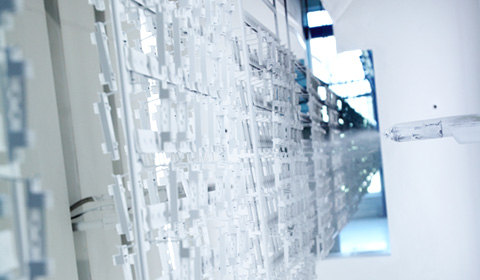 Surface finishing
Roto's fully automated powder coating plant applies powder coated finishes to hinge covers and other parts in various RAL colours. Metal parts are galvanized and electroplated with industry-leading coatings such as RotoSil Level 6 for a lifetime of corrosion resistance in extreme environments.
Toolmaking
All of the moulds and punching tools used to make Roto components are all produced in-house at a facility that has been recognised for its high level of professionalism. In 2020, as part of the "Excellence in Production" awards, Roto Frank Austria was listed as one of the top ten toolmakers in the German-speaking countries. The Kalsdorf site's toolmaking facility was also placed in the top three of internal toolmaking departments with fewer than 50 employees.
Given the technology and expertise on offer, it is not surprising to discover that Roto Kalsdorf also makes components for a number of clients in the high-end manufacturing sectors such as the automotive industry.
See more on some of the premium product groups made at Roto Kalsdorf!
Is it time you had a visit from your local Roto representative?
Fill in your details here and we will get back to you.
By completing and submitting the form below, you agree to our privacy policy.