As a window fabricator, you have two main priorities when choosing window hardware.
The first is to find a hardware system that brings the maximum advantage to your business at the purchasing and manufacturing stage. If you can simplify your logistics and production processes, you can improve your profit margins.
The second is to be able to provide real benefits to the end users. This will give you selling points to help you stand above competitors and gain orders.
Roto NX provides you with an unrivalled number of benefits in both of these areas. In this article we take a look at a few of them.
Logistics advantage: Order and process fewer parts
Purchasing Roto products is already made simple by technology: our Roto Con Orders software makes it easy to specify parts correctly and keep track of your orders.
Choosing Roto NX makes your logistics processes even easier because the system has been designed to use a minimal quantity of components while also requiring the smallest number of different parts possible. This simplifies your ordering without limiting the possibilities of stockholding.
Production advantage: Roto V-cam
Roto NX has three types of cam: the standard E cam and the mushroom-headed P cam are both adjustable for compression. The V-cam is a mushroom security cam with the additional flexibility of being height adjustable.
The new version of the V-cam has a wider rebate tolerance range, so it is more forgiving of small deviations in the gap between sash and frame. This reduces the chances of the top of the cam clashing with the striker, and therefore means it is much less likely that your fitters will have to make adjustments to the cams.
If any adjustments are needed, the new V-cam has a fine-pitch thread, making the adjustments more precise than ever before. At the same time, tightness is retained. If the cams are adjusted, they remain firmly in their new position, so maximum performance is achieved for air and water tightness and burglary resistance.
Logistics advantage: EasyMix
If you are making taller windows or door-type sashes with backsets of 25mm or more, Roto NX provides a way to save space in your storage area and simplify stockholding while also keeping things quick and straightforward for production workers.
With the EasyMix system, there is just one set of drive gear rods and these are customisable. The assembly team can quickly connect different sized gearboxes and cylinder lock casings as required. This gives you greater flexibility without having to order and deal with many different long drive gears.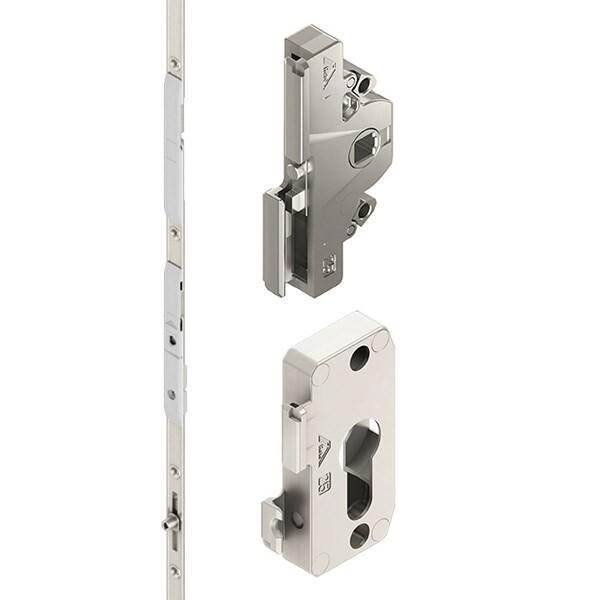 Selling point: TiltSafe
One of the outstanding advantages of Roto NX is the TiltSafe option. This patented technology makes windows break-in resistant up to Resistance Class 2 when in the tilt mode.
You can achieve this with just three TiltSafe components per window. These parts integrate with the mushroom security strikers that would already be present on a burglar-resistant window. Your additional ordering and production time is therefore kept to a minimum.
TiltSafe provides you with an outstanding security claim that will give your customers peace of mind. It is also retrofittable, so you could offer this as an option to clients with existing windows that have Roto NX or Roto NT hardware.
Production advantage: Espagnolette Plus for floating mullion
Roto NX also makes it easier for you to manufacture windows with two sashes. Espagnolette Plus has been designed to be fitted quickly and easily. The strikers on the active and passive sash are installed in a common position with the use of just one drilling jig. The espagnolette is delivered in the open position to facilitate faster cropping.
As well as helping you manufacture more efficiently, it also provides selling features. The lever on this espagnolette is attractive, ergonomic and easy to operate. It is also safer because it flips up to be almost parallel to the faceplate, which means it does not protrude away from the sash when in the open position.
Selling point: RotoSil Level 6 coating
No other hardware undergoes the same testing as Roto systems. This is because our engineers designed a special in-house procedure in order to assess parts such as rivets, which are not included in general industry standards. Another aspect of our testing is that parts are subjected to a salt spray at a range of very high and low temperatures and at varying degrees of humidity.
Our RotoSil Level 6 surface coating is designed to meet all the requirements of EN Class 5 and the extra demands of the Roto changing climate test. This is another fact you can use to assure your customers that your windows provide the very best long-term resistance to corrosion.
Selling point: Integrated night ventilation
Sometimes homeowners want to have a low but continuous level of ventilation, much less than with a regular tilt mode. Roto NX solves this problem with an option for an integrated night ventilation mode. This is accessed easily by turning the handle to the 135º position. The sash is then held open by a small amount, perfect for ventilation in mild weather, either overnight or at any other time.
If the window is also fitted with TiltSafe, it will remain break-in resistant to RC2 even if a burglar tries to force it open from night vent mode.
These are just some of the advantages of Roto NX. Combine this hardware with DEVENTER weatherseals from the Roto Group and you will be able to provide your customers with a long and trouble-free service life from windows with unparalleled weather performance and energy efficient sealing, plus industry leading advantages in ventilation, security and functionality.
Your Roto representative will be able to show you even more. Contact them for a meeting or demonstration visit.
Download the Roto NX brochure.
Register your details here to get the full document via email.
By completing and submitting the form below, you agree to our privacy policy.